Imagine this scenario—some of your close friends or a few guests coming over to your place, and they won't stay in a hotel or decided against AirBnB. You don't have a guest room to accommodate them, neither do you have an extra bed. What are you going to do? Don't panic. There is a solution, and it's easier than you think! Have you ever heard of a futon?
These sleek pieces of furniture are one of the most useful things to have around in your home and even in your office. First off, they're great for maximizing space, especially if you live in a small studio apartment with no room for an extra guest bedroom. Furthermore, futons and sofa beds can be converted into comfortable full-size beds quickly!
So, if you don't have a sofa bed or futon mattress, what are you waiting for? What is stopping you from investing in a decent piece of furniture to put into your home?
Get one—NOW!
But Wait! Do You Know Which One To Buy?
Most people assume that a futon and a sofa bed are almost the same things, but that's not true. If you notice carefully, there is a difference. Futons and sofa beds both have different styles, structures, and sizes. They do vary from one another, so the question remains: which one is better for you?
This is what we will be discussing here in this article. A comprehensive comparison of these two products will help you decide which one is most suitable for your needs.
So, without further ado—let's get to it:
The Difference Between Futon Vs Sofa Bed: At A Glance
| | | |
| --- | --- | --- |
| Features | Futon | Sofa Bed |
| Price | Cheap | Expensive |
| Maintenance (cleaning, dusting, etc.) | Easy | Difficult |
| Looks | Normal | Great |
| Mattress options | Yes | No |
| Assembly | Yes | No |
Futon and Urban Sofa Bed Pros & Cons: At a Glance
[affiliatable id='32578′]
What Is A Futon?
A futon is a traditional form of mattress that originated in Japan. A futon can be folded to resemble a sofa. It is useful to have in your house that can be doubled as a bed, especially when you've staying guests. Because futons can be folded, they're easy for storing underneath your bed or inside your closet. Japanese futons are thinner than their American counterparts and require less space in your room when folded.
Like any other mattress, futons come in different thicknesses, firmness levels, and sizes. Some futons also come in conventional mattress sizes. So, picking one that is the right size for you is easy. A futon looks pretty basic and is commonly preferred by people with limited space in their homes, apartments, and even some offices.
Benefits of a Futon
Futons are fantastic if you want a sleeping area for a guest or friend instantly in a smaller room. The futons are easily foldable, and all you need to unfold them in a laying position parallel to the floor. You don't need to pull anything or adjust a frame. Since futons are essentially adjustable mattresses, you can get a futon mattress of varying shapes and sizes that meets your needs.
This means you can configure the thickness of your futon mattress to your liking for greater comfort. Unlike what people think, any typical futon can accommodate two people comfortably.
Additionally, futons weigh less than sofa beds. You can easily move your futon mattress around your room to place it at a convenient spot or during moving apartments or homes. Finally, if you're on a budget, you'll love futons as they're incredibly budget-friendly.
Disadvantages of a Futon
One of the major downsides to a futon lies in its sitting position. See, futons may not be as comfortable compared to your home couch when folded in the sitting position. Futons don't have cushions. The entire thing is a mattress, and after extended usage, it tends to become lumpy or flat. Some futons are too soft, and if you lay on them you may sink in a bit, and getting out can be harder, especially for small kids and the elderly.
Since a futon mattress is essentially bendable and typically categorized as furniture on a budget, it may give your room or space a 'cheap look.' Moreover, futons typically come with thinner mattresses. And don't expect your futon to be comfortable like a couch or functional like a sofa bed. Besides, you'll require a thicker mattress for any futon to be comfortable—whether you're sitting or sleeping on it.
What Is A Sofa Bed?
A sofa bed is a bed with a bed inside. A metal or steel frame is located inside the sofa and is pulled out of the sofa to reveal the bed. The sofa pillows are pulled up to resemble pillows. Since all of this is built inside the sofa, the mattress is thinner compared to a typical mattress. Like futons, sofa beds are popular in houses and apartments with limited space and hotels. Sofa beds are fantastic to accommodate more sleepers in less space without the need to set up additional beds or add more rooms.
Most sofa beds are so cleverly designed that sometimes it can be difficult to distinguish between a couch and an actual bed unless people see the bed frame is retracted inside the sofa. Just like futons, sofa beds are made of many different materials and come in various sizes.
Benefits of a Sofa Bed
If you're short on space or looking for decluttering your home—a sofa bed is a great option. With a sofa bed, you can conceal your bed inside your sofa bed. Sofa beds look like any other typical couches, and most people can even tell the difference between a sofa bed and a regular sofa. The sofa bed will only be recognizable if the cushions were lifted off and the frame is pulled out from inside the sofa bed hence revealing the hidden mattress.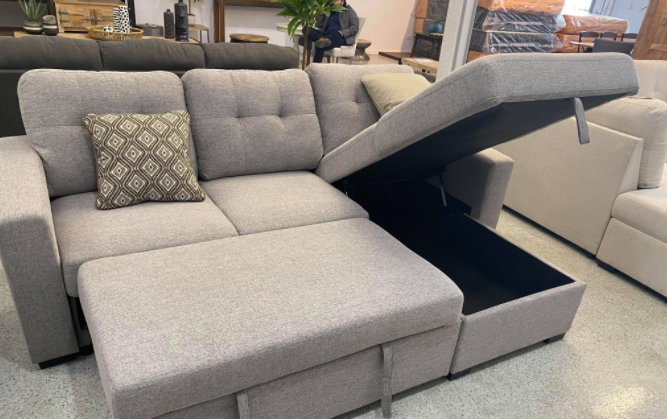 Sofa beds are also impressive because you can find these things in various styles, designs, sizes, and budgets. Regardless of your requirements and personal preferences, we can assure you that you can find something that will match your room's look and feel as sofa beds blend in easily with your existing furniture.
Disadvantages of a Sofa Bed
Compared to futons, sofa beds can be quite heavy as there is a concealed mattress within the sofa bed. Some sofa bed models are even heavier than normal couches since there is a metal-framed bed and mattress inside them. This makes them very cumbersome to move around. Also, sofa beds are on the expensive side. It's because this furniture doubles as a sofa and a bed, so it's normal to expect a higher price tag than a normal couch or bed. If you're on a budget, maybe a sofa bed isn't ideal for you.
That said, sofa bed mattresses are infamous for being uncomfortable. As the frame and mattress are both foldable, the mattress is supported by metal bars. Sofa bed mattresses aren't durable in the long term, and after extended use, the whole thing becomes flimsy, and sleepers will most likely feel the metal bars while sleeping on it.
Which is Better For Sleeping: Futon Vs Sofa Bed?
Futons are great for sleeping. They're comfortable and some models come with special mechanisms where you can adjust the firmness level. Besides, they're light, portable, easy to clean, and yes, easy to store. The materials used to make futons, at least the premium ones, also deserve our praise.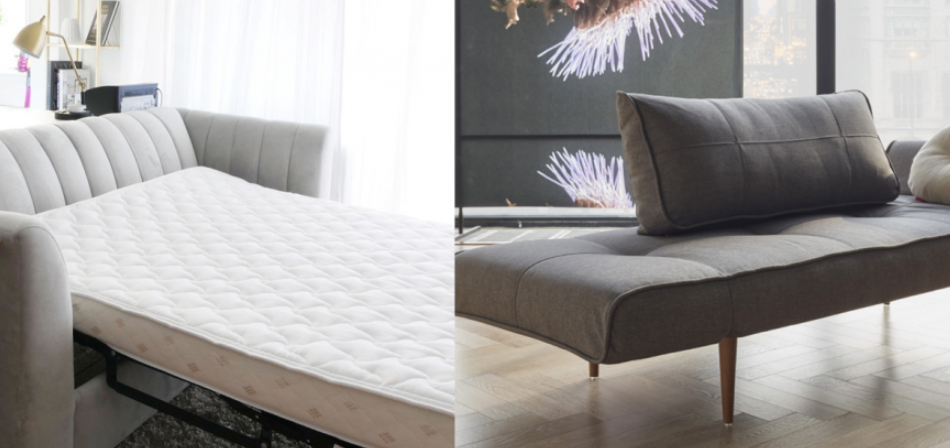 Good futons are made of wool, organic cotton, or latex. This makes them comfortable sleeping peacefully. However, a futon has a thinner mattress compared to a regular mattress. So, if you're someone with back pain, a futon may not be a good option. That doesn't mean that you can't sleep on it for a few days. We only recommend a thinner futon for back sleepers, while a thicker futon is a good choice for side sleepers.
If you're looking for a great futon whether for your home or home office, we recommend you check the DHP Emily Futon.
[affiliatable id='31593′]
If you're looking for an amazing sofa bed for your home we recommend you check the Modern Sofa Bed Sleeper Faux Leather Convertible Sofa Set Couch Bed.
[affiliatable id='21318′]
FAQs (Frequently Asking Questions)
Which is better, the futon or the sofa bed?
The futon is a great choice for people who are short on space, as it has a slim structure with no mattress. The sofa sleeper comes in larger sizes but is more comfortable because of the construction and padding that they include. Futons have lighter frames which makes them easier to move around compared to sofa sleepers.
Additionally, converting mechanisms are also better than those included with other kinds of beds too. Concerning the price – you won't find anything cheaper than a futon mattress!
What is the difference between a futon and a mattress?
A futon is a type of mattress used in Japan.  The mattress is made with layers of cotton padding and feather filling, rather than springs or foam fillers.  A futon can be set up as the base (and the only) bed in a traditional Japanese tatami room, providing more floor space for sitting areas during waking hours. Or it may be rolled out onto the floor when people wish to sleep during the night.
Futons are generally stored in very compact drawers when not in use. People fold them up, no matter how large or expensive they were when originally purchased so that they can be tucked away until needed.
A mattress has several layers that make up the padding. A typical mattress is made with cotton padding over coils or springs, giving it both softness and support. Mattresses come in all shapes and sizes.
However, a futon does not have any springs at all—it simply has padding constructed in layers, making it dense. You can lie on one side for hours without any discomfort. A futon is kept in a wooden frame that holds the mattress up at the right height for sitting during the day and sleeping at night (about 5-7cm off the ground).  Futon mattresses usually last about six years before needing replacement; however, the frames can be used indefinitely.
The biggest difference is that a mattress has springs, whereas a futon does not. Futon mattresses generally last about half as long as regular mattresses.
What is the difference between a futon and a sleeper sofa?
A futon is a type of couch that can open into a bed. A sleeper sofa is also a couch that opens into a bed (but not all such couches are called "futons").  A futon is typically much thinner than a sleeper sofa. It usually consists of only one layer, but in some cases, there is also a removable cover that can be used to protect the mattress when it's not being slept on. A sleeper sofa has two layers: the seating surface and the sleeping surface.
Sleeper sofas are usually thicker because they have an added layer of support under the cushions of the seating area. Though its comfort level depends on many factors, such as the thickness of the cushion or the amount of filling, both types are often fairly firm because they are made with foam over wood, metal, or springs. Some people prefer this type over softer yet bulkier bedding styles. Both futons and sleeper sofas are more popular in Japan, but both types of furniture have gained real popularity in the USA.
What is the difference between a futon and a couch?
A futon set consists of a place to sleep and a quilt to cover the sleeper. People roll up their futons in the morning and store them in a closet or under a bed. They might leave out their futon during the day if guests come over that evening, but otherwise, they will just sit on a regular couch instead.
In contrast, most Westerners use sofas as their primary living room furniture. Unlike futons, sofas are also used for sitting instead of just sleeping. This would be considered strange in Japan since most people wouldn't sit on a mattress close to dinner time. Sofas in Western homes are not rolled up during the day, but they can be pushed out of the way so that people can move around more freely. Asians use chairs instead of sofas because they usually eat dinner at a table and watch TV or read on their couch afterward.
Are futons better than mattresses?
Typically, futons are firmer than traditional mattresses because they're designed to be put on the floor. However, as a solution for chronic or severe back pain, futons probably aren't that great of an idea since other mattresses can conform more easily to your body and provide better support.
Are futon beds comfortable?
Most people don't like futons when they first try them. They think that a futon is just a cheap, uncomfortable bed. However, once you sleep on a futon mattress for a while, it's not so bad. As a bed, futons can be comfortable if you find the right one. However, they are usually firm and not squishy like foam mattresses which might take some getting used to!
Conclusion
Now that you know the difference between a futon and a sofa bed, it is up to you which one suits your needs best. If you are looking for an inexpensive option with easy clean-up capabilities, then a futon may be right for you. But if aesthetics are important in your home design or when entertaining guests, then the sofa bed might be better suited to meet those needs. The choice is yours!
See Also: