Imagine this scenario—some of your close friends or a few guests coming over to your place, and they won't stay in a hotel or decided against AirBnB. You don't have a guest room to accommodate them, neither do you have an extra bed for them to spend the night. What are you going to do? Don't panic. There is a solution, and it's easier than you think! Ever heard of a futon vs sofa bed? If you don't have one, what are you waiting for? Get one ASAP!
And why won't you? What is stopping you from investing in a decent sofa bed or futon mattress for your home? These slick pieces of furniture are one of the most useful things to have around in your home, heck, even in your office, that is, if it allowed. For starters, they're great to maximize the space in your room, especially if you live in a small or studio apartment where there is no space for a guest room. Futons and sofa beds can easily be converted into fully functional and comfortable beds in no time.
But Wait! Do You Know Which One To Buy?
Most people assume that a futon and sofa bed to be almost the same thing, but that's not true. If you notice carefully, there is a difference. Futons and sofa beds both have different styles, structures, and sizes. They do vary from one another, so the question remains: which one is better for you?
This is what we will be discussing here in this article. A comprehensive comparison of these two products will help you decide which one is most suitable for your needs.
So, without further ado, come on and let's get to it:
The Difference Between Futon And Sofa Bed: At A Glance
| | | |
| --- | --- | --- |
| Features | Futon | Sofa Bed |
| Price | Cheap | Expensive |
| Maintenance (cleaning, dusting, etc.) | Easy | Difficult |
| Looks | Normal | Great |
| Mattress options | Yes | No |
| Assembly | Yes | No |
Futon and Urban Sofa Bed Pros: At A Glance
Compact size
Affordable
Lightweight
Stylish and unique designs
Easy to transition from sofa to bed
No need to change or replace the entire sofa
Futon and Urban Sofa Bed Cons
Limited fabric and styles
Sleeping areas is same as sitting surface
Smaller sleep surface
Replacing the mattress is a bit tedious
What Is A Futon?
A futon is a traditional form of mattress that originated in Japan. A futon can be folded to resemble a sofa. It is useful to have in your house that can be doubled as a bed, especially when you've staying guests. Because futons can be folded, they're easy for storing underneath your bed or inside your closet.
Japanese futons are thinner than their American counterparts and require less space in your room when folded.  Like any other mattress, futons come in different thicknesses, firmness levels, and sizes. Some futons also come in conventional mattress sizes. So, picking one that is the right size for you is easy. A futon looks pretty basic and is commonly preferred by people with limited space in their homes, apartments, and even some offices.
Benefits of a Futon
Futons are fantastic if you want a sleeping area for a guest or friend instantly in a smaller room. The futons are easily foldable, and all you need to unfold it into a laying position parallel to the floor. You don't need to pull anything or adjust a frame. Since futons are essentially adjustable mattresses, you can get a futon mattress of varying shapes and sizes that meets your needs. This means you can configure the thickness of your futon mattress to your liking for greater comfort. Unlike what people think, any typical futon can accommodate two people comfortably.
Additionally, futons weigh less than sofa beds. You can easily move your futon mattress around your room to place it at a convenient spot or during moving apartments or homes. Finally, if you're on a budget, you'll love futons as they're incredibly budget friendly.
Disadvantages of a Futon
One of the major downsides to a futon lies in its sitting position. See, futons may not be as comfortable compared to your home couch when folded in the sitting position. Futons don't have cushions. The entire thing is a mattress, and after extended usage it tends to become lumpy or flat. Some futons are too soft, and if you lay on them you may sink in a bit, and getting out can be harder especially for small kids and the elderly.
Since a futon mattress is essentially bendable and typically categorized as furniture on a budget, it may give your room or space a 'cheap look.' Moreover, futons typically come with thinner mattresses. And don't expect your futon to be comfortable like a couch or functional like a sofa bed. Besides, you'll require a thicker mattress for any futon to be comfortable—whether you're sitting or sleeping on it.
What Is A Sofa Bed?
A sofa bed is a bed with a bed inside. A metal or steel frame is located inside the sofa and is pulled out of the sofa to reveal the bed. The sofa pillows are pulled up to resemble pillows. Since all of this built inside the sofa, the mattress is thinner compared to a typical mattress. Like futons, sofa beds are popular in houses and apartments with limited space and hotels. Sofa beds are fantastic to accommodate more sleepers in less space without the need to set up additional beds or adding more rooms.
Most sofa beds are so cleverly designed that sometimes it can be difficult to distinguish between a couch and an actual bed unless people see the bed frame is retracted inside the sofa. Just like futons, sofa beds are made of many different materials and come in various sizes.
Benefits of a Sofa Bed
If you're short on space or looking for decluttering your home—a sofa bed is a great option. With a sofa bed, you can conceal your bed inside your sofa bed. Sofa beds look like any other typical couches, and most people can even tell the difference between a sofa bed and a regular sofa. The sofa bed will only be recognizable if the cushions were lifted off and the frame is pulled out from inside the sofa bed hence revealing the hidden mattress.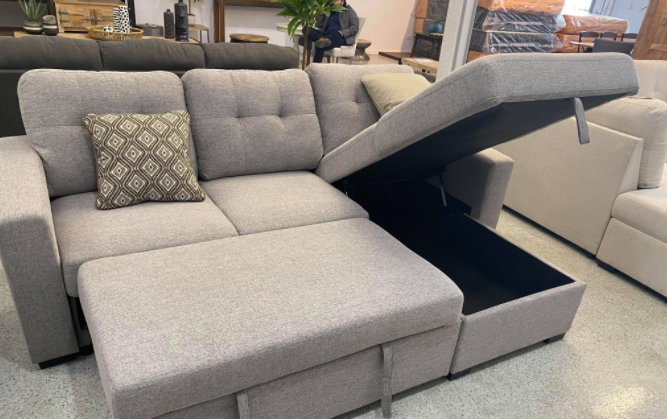 Sofa beds are also impressive because you can find these things in various styles, designs, sizes, and budgets. Regardless of your requirements and personal preferences, we can assure you that you can find something that will match your rooms' look and feel as sofa beds blend in easily with your existing furniture.
Disadvantages of a Sofa Bed
Compared to futons, sofa beds can be quite heavy as there is a concealed mattress within the sofa bed. Some sofa bed models are even heavier than normal couches since there is a metal-framed bed and mattress inside them. This makes them very cumbersome to move around. Also, sofa beds are on the expensive side. It's because this furniture doubles as a sofa and a bed, so it's normal to expect a higher price tag than a normal couch or bed. If you're on a budget, maybe a sofa bed isn't ideal for you.
That said, sofa bed mattresses are infamous for being uncomfortable. As the frame and mattress are both foldable, the mattress is supported by metal bars. Sofa bed mattresses aren't durable in the long term, and after extended use, the whole thing becomes flimsy, and sleepers will most likely feel the metal bars while sleeping on it.
Which is Better For Sleeping: Futon Vs. Sofa Bed?
Futons are great for sleeping. They're comfortable and some models come with special mechanisms where you can adjust the firmness level. Besides, they're light, portable, easy to clean, and yes, easy to store. The materials used to make futons, at least the premium ones, also deserve our praise.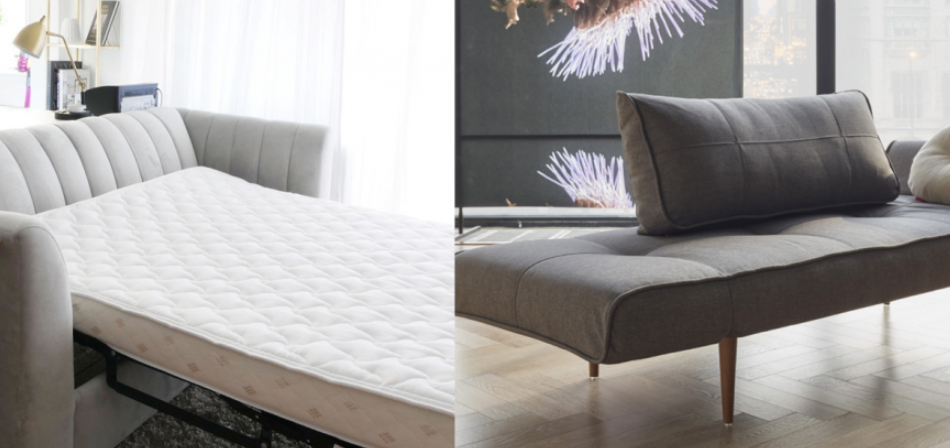 The good futons are made of wool, organic cotton, or latex. This makes them comfortable for sleeping peacefully. However, a futon has a thinner mattress compared to a regular mattress. So, if you're someone with back pain, a futon may not be good option. That doesn't mean that you can't sleep on it for a few days. We only recommend a thinner futon for back sleepers, while a thicker futon is a good choice for side sleepers.
If you're looking for a great futon whether for your home or home office, we recommend you check the DHP Emily Futon.
DHP Emily Futon:
The DHP Emily Futon is a low-profile futon bed with a strikingly modern look and style. The tufted upholstery exudes a classic look and feel. The upholstery is made of linen, faux leather, or velvet. The upholstery is available in a variety of colors. The upholstery of this particular futon bed is navy linen. The bottom of this futon bed is made of sleek slanted chrome legs, which adds a degree of pizzazz to your home or office décor. You can also pair this futon bed with a matching chair, chaise lounge, or/and an ottoman if you want to. After all, this futon bed is ideal for any living space.
This Emily futon bed has the manufacturer's signature convenient split back functions that allow your guests to adjust the futon to their personal comfort levels—whether they're chilling in the poolside enjoying their drinks or lounging back to watch a movie. There's more.
The DHP Emily Futon can be laid flat on both sides doubling as comfortable sleeping spot for guests. The relatively small profile of this futon makes it convenient for storage anywhere in your living room, guest room, or your home office. If you're looking for the perfect seating space and a comfortable bed all in one room—the DHP Emily Futon is really a great option.
Now, let's get to sofa beds. You'll be disappointed to know that when it comes to a pleasant night's sleep, sofa beds may not be the right choice. Sure, you can sleep on them alright, but keep in mind, the mattress on sofa beds has metal bars inside. Furthermore, the mattress is thin and wears off relatively faster than other mattresses. When that happens, sleepers will feel the metal rods inside them making it difficult for you to sleep on the bed comfortably. Also, the firmness level is fixed, which makes it even less attractive than futons. However, they do function like any other normal bed.
If you're looking for an amazing sofa bed for your home we recommend you check the Modern Sofa Bed Sleeper Faux Leather Convertible Sofa Set Couch Bed.
Modern Sofa Bed Sleeper Faux Leather Convertible Sofa Set Couch Bed
The Modern Sofa Bed Sleeper is a multi-purpose, convertible sofa that can be converted to a sofa bed and a chaise lounge. This sofa bed has a modern, contemporary design and is made for comfortable seating in mind.
The exterior is tufted faux leather upholstery, and the shiny chrome legs add a sense of glamour to any living room, study, or office. This Modern Sofa Bed Sleeper can be converted to a couch or a comfortable sleeper in a jiffy to accommodate your overnight guests. If you're looking for a great couch on a low budget that also doubles into a couch bed or a
See Also: