How can you get the best out of a bedroom? The master bedroom may have just about enough space to organize everything, but what about your kid's room or the guest room? You want the best use of every square inch and give them everything that they can possibly need. But the room itself doesn't seem to agree with you by providing enough space for everything you are thinking. What can you do – leave the house and buy a bigger one? To be brutally honest with you, that might be the best thing, but for now, you are stuck with what you have at this moment. So, what can you really do?
Simple – get a loft bed. The raised bunk will let you have that extra space where you can set up the reading table, shelves on the sides for storing stuff, or simply use the area underneath as storage. The manufacturers incorporate plenty of different needs or styles while designing the loft beds. You just need to be sure of what you want for yourself.
Given the plethora of options available out there, it can be a daunting task to find the best-suited loft bed for your household. In the den of sleepingpark.com, we did a little research about different types of loft beds within a sensible margin. While selecting the products, we look into things like price range, functionality, user-friendliness, compatibility with modern house décor, the longevity of the product, ease of assembling, availability, home delivery, the quality of after-sales services provided by the company, etc.
Through much deliberation, our panel of experts has concluded that, you are not going to get a loft bed or any other product for that matter, which can satisfy every demand that you can ask for from it. Nevertheless, they at least have been in agreement with the following 7 products that satisfied their in-depth inquisition of the factors that I've just mentioned which any loft bed should be possessed with:
7 Best Loft Beds for Kids and Adults:
 Xiao Tian Twin Metal Loft Bed
Max & Lily Solid Wood Twin-Size Low Loft Bed with Slide
Xiao Tian Twin Metal Loft Bed with Slide
Xiao Tian Twin Wood Loft Bed
Xiao Tian Kids Wood Loft Bed with Slide
DONCO Kids Louver Loft Bed
Walker Edison Metal Twin Loft Bed
Comparison Chart:
7 Best Loft Beds for Kids and Adults In 2021
Please carry on reading to find out details about them: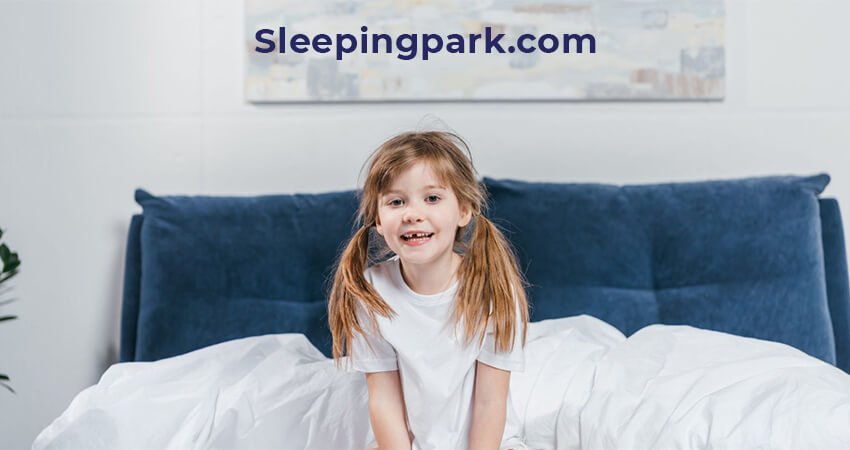 1. Xiao Tian Twin Metal Loft Bed
This loft bed's whole frame has a neat and crisp finish, displaying a 'cool' look so loved by the teens.Its upper bed can handle more than 200 pounds quite effortlessly. And to be harmonious with the overall structural strength, the desk and the shelves are made to hold 120 pounds and 50 pounds, respectively.
With this rigidity and stability in its structure, the bed can easily oversee your baby's growing up from an adorable kid to a self-sufficient, confident young adult.
The bed has a clean-lined outline and a slatted horizontal headboard and footboard. The upper bunk has 13.4 "guardrails, which run the full length, and they are also strong enough to provide safety during sleep. The rugged metal frame has 12 uncompromising bed slats, which eliminate the need for a box spring. It also has two stairways, so ascending to the upper bunk can be possible from multiple sides.
This piece of furniture has 58.3 "clearance under the bed where a desk and two shelves are unified. This means this loft bed not only provides a smart bedding option but also solves the problems of not having enough spaces for setting up the reading room, the space for lounging, and finally enough space for crafting.
If DIY is something that is not included in your repertoire, fear not, this bed is quite simple to install. You don't need any unique tool to complete its assembling. The parts are numbered sequentially, and the language in the manual is clear and concise. So, it won't be any hardship at all to get it ready to sleep on.
Technical Details:
Height: 71.7 "
Width: 41.7'"
Length: 79.9 "
Warranty:  one year
2. Max & Lily Solid Wood Twin-Size Low Loft Bed with Slide
This twin-sized low loft bed is made from solid pine frames sourced from New Zealand. Using wood gives durability, and the elegant design of the product makes it compatible with all sorts of household décor. It will come in three colors – white, gray, clay – you just have to decide which one suits your taste best.
As we all know – children love slides. So, this bed is going to be a fantastic addition to their bedroom to brighten them up. The slide is strong and without any wobbles or isn't rickety if assembled correctly. The height is not too high to make it dangerous and, at the same time, not too tame to be attracted by the children.
This Max & Lily twin size loft bed has a strong structure to hold children and adults alike. There are six wooden slats to keep the mattress, so you don't need to have any box spring for this bed. The guardrail stretches more than 5 inches to provide protection while the occupant is asleep.
There are two openings – one for the slide and one for the ladder. This product's unique feature is that the slide and the ladder are interchangeable for attaching with the frame – so place them where they suit you most.
The under-bed clearance is about 33.25, "which open spaces for using either storage or play area.
Technical Details:
Height: 50 "
Width: 42.5'"
Length: 81.5 "
Warranty:  one year
3. Xiao Tian Twin Metal Loft Bed with Slide
The Xiao Tian twin metal loft bed with slide is more of a ride in an amusement park than actually a bed where your loved ones will be sleeping. Sounds exaggerating? Your kid should be the one to have the last say about that. Let's find out more about this product.
The actual height of the bunk bed is only 41.4 inches. So it wouldn't be of any difficulty ascending to the bed using the stairways of only three steps. And I've already told you about the fun of sliding down. Your kid can have fun sliding down for at least about 66.9 inches.
The bed has a rugged metal frame, which can take up to 200 pounds of weight with ease. 12 rigid bed slats replace the need for an extra box spring. And then there are full-length guardrails which, in combination with the overall rugged metal frame, give the whole bed the much-needed safety and security when your child uses the bed for sleeping.
Under-the-bed clearance is 31.9 inches, where you can put all the favorite toys of your kid. Or how about turning the available space into a fort? Leave it to your kid's imagination, and you won't be disappointed.
The product has an overall weight of about 81.5 lbs, and the complete assembling will not take more than 15-20 minutes. And you can have it in three different colors – red, white, and black.
Technical Details:
Height: 43.3 "
Width: 41.4'"
Length: 77.2 "
Guarantee: one year
4. Xiao Tian Twin Wood Loft Bed
You are thinking – is there enough space? Maybe there actually isn't but don't get disappointed just yet. If the room for your loved one is a bit too little, you can, without any hesitation, opt for Xiao Tian twin wood loft bed. This piece of furniture can be a fantastic addition to your kid's bedroom. It offers the solution for not having enough space to put everything in the room that your kid will need. The space underneath the twin bed can be used as storage quite effectively.
The solid wood provides stability to the structure. The reinforced guardrails work perfectly for keeping the kid-safe while he or she will be sleeping. The ladder has three rungs that are easy to navigate.
This loft bed has dark-pine or espresso colored finishing with spray-painting, which gives the bed a sleek look. The bunk will fit most twin-sized mattresses, and there will be no need for a box spring.
Technical Details:
Length: 80.55 "
Width: 43.11"
Under-bed clearance: 28.82."
Headboard Height: 15.63″
Weight: 83.6 lbs
Load Capacity: 175 lbs.
Guarantee: one year
5. Xiao Tian Kids Wood Loft Bed with Slide
Wouldn't your kid love to get off from the bed sliding down? That's undoubtedly a no brainer for any kid. And since the slide can easily be removed or re-attached, it offers fun and functionality in equal measure. But the slide is not the only feature that makes the Xiao Tian wooden loft bed a perfect fit for your kid.
The sturdy loft bed has pine wood frames with 8 plywood slats for holding as much as 175lbs of weight. The plywood slats can keep the mattress, and there will be no need for any box spring.
There is about 28.8 "clearance under the bed where you put all the favorite toys of your kid. But the space is suitable enough for a dresser or a cabinet as well.
The attached ladder is built-in, and it gives extra stability to the whole structure. The railing guards have a height of 11.9 "and reinforced strongly to the mainframe. So they can maintain the safety and security of the kid while they sleep on it.
Technical Details:
Height: 44.4 "
Width: 42.3'"
Length: 78.2 "
Guarantee: one year
6. DONCO Kids Louver Loft Bed
Using smoothly furbished pine wood, the Donco Kids louver loft bed is another fantastic option to choose from. The antique gray frame with blue tent fabric offers a wholesome look when adding this to your kid's bedroom.
Donco Kids is a renowned name, and their products offer style with safety and security. This furniture is another example of their signature creativity with assuring safety for the kids. At the same time, they use this bed to sleep. The sturdy wooden frame with stylishly put guardrails surrounding the mattress ensures stability. The strong wooden slates remove the requirement for box spring, and a two-rung step ladder is easily accessible by the kids. You can easily wash the tent fabric and change the color of it whenever you want. In actuality, the manufacturers combine the colors so that they look compatible with almost every shade. Still, of course, that depends on your personal preferences. You can obliterate the tent and use the space underneath as a play area or use it as makeshift storage for keeping stuff for your kids. Or you just keep the tent and let the imagination of your child run wild with it.
The product weighs about 81lbs and can comfortably hold a load of about 180lbs. It needs to be assembled by you, but the numbered parts and clear instructions in the manual will make assembling easy.
Technical Details:
Height: 43 "
Width: 41'"
Length: 77 "
Warranty: one year
7. Walker Edison Metal Twin Loft Bed
One of the best varieties of loft beds that are available these days. Parents love the Walker Edison metal twin version for its simplicity. The 'more than enough open space underneath can be used for a variety of purposes. This bed has a powder-coated sleek finish, and the solid steel frame provides stability and security. The guardrails are strong, and there are two-step ladders to climb upon. This feature makes it easy to place the bed anywhere you see fit. No box spring is needed, and the slats can accommodate the mattress with rigidity.
This bed is strong enough to carry a load of 250lbs, and it weighs about 70lbs. You need to assemble it, and assembling is easy if you follow the letter's instruction manual.
Technical Details:
Height: 68 "
Width: 42"
Length: 79 "
Guarantee: one year
Buyer's Guide: Best Loft Beds for Kids and Adults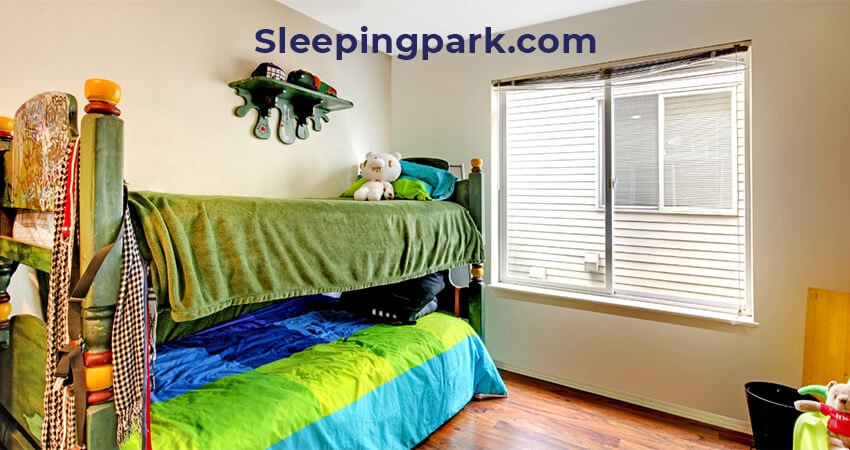 Best Use of Available Spaces:
If you are in short supply of spaces to set up must-have furniture, loft beds are the solution. Underneath the bunk, you can fit a desk. If you choose it for your child, space can be turned into a playroom. You can even make space a makeshift castle if you want to! And above all else, you can just use the extra space as storage to put things that you need occasionally. So you won't lose them when you aren't using them, and you'll find them when you are going to use them.
Can Be A Part of The Décor Effortlessly:
Loft beds these days come in various sizes, shapes, and colors. The 'hip' looks and 'sleek' finishes of the furniture will let you merge the loft bed with your modern and stylishly decorated household. And you don't need to break the bank to get the look and the intended effect while getting all the benefits at the same time.
Who Can Use Them?
Some loft beds have slides, and they may be a bit too mischievous for your taste. But their plenty of others of innovative and appealing designs for adults and teenagers. So you just have to select the appropriate design for those who are going to use them:
Kids:
It is noteworthy that children aged six and over are usually able to safely use most loft beds. But every child is unique and responds differently in different situations. So, as parents, it would be a good idea to take that into consideration. Though a nine-year-old won't have any problem navigating a metal step-ladder, a set of a sturdy wooden ladder with two rungs might be best for a six-year-old.
Adults:
Adults won't be having any trouble dealing with ladders. And there are numerous designs appropriate for holding twin-sized mattresses that will be perfect for accommodating teenagers and adults.
Things to Consider Before Buying Loft Beds for Kids and Adults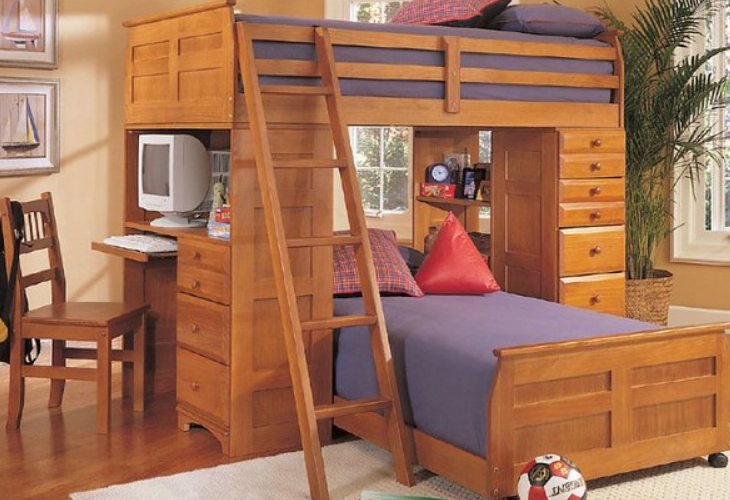 Size of the Bunk:
Most loft beds can accommodate twin mattresses, a few can hold full-sized mattresses also. So before making a purchase, make sure the option you are going for will comfortably fit in the available space. The ceiling's height or shape should also be considered because if there is not enough room overhead, the user might feel suffocated.
Safety:
You must consider the safety issues associated with a loft bed if you buy it for kids. The frame's strength, the height of the ladder, load capacity, and prescribed mattress dimensions should be carefully thought out. Ladders might not be an issue for the adults, but if you want to buy it for children, make sure they can safely use them.
Every model that we choose has met specific safety standards. But you should consider the safety issues carefully as well. Every model needs to be assembled manually, and they come with clear and precise instructions. It is always safe to follow the instructions to the letter to avoid any unwanted incident that might result in injuries.
Weight Limit:
The manufacturers provide an upper weight limit, which indicates the highest load the loft bed can take without compromising the integrity of the product's overall structure. Usually, wooden loft beds are safe to assume to hold more weight, but that doesn't guarantee the wear and tear over time. So, it is always a good idea to remain within the limit suggested by the manufacturers. You also need to remember that the weight limit includes not only bodyweight but a mattress, blankets, pillows, or whatever item you might be thinking of storing.
Durability:
Wooden loft beds are highly likely to be a piece of an antique – that is, if you want to use it not only for the firstborn but maybe afterward for the younger ones as well, wood is the one to choose for. Metal frames are sturdy and safe, but they can get bent or weakened over time.
Comfort
A loft bed shouldn't be an impediment to getting comfort; you just need to spend wisely on mattresses. To be absolutely sure, do any one of the following: use a bunk board, get a frame that has a high load capacity.
Additional Features with the Frame
There are built-in shelves for storage and bookcases to keep the room tidy. If you choose wisely, you can get away by putting holes in the walls. Just make sure that your selected variation has everything that you want. Some loft beds are beautifully made for college dorm rooms. Or better yet, if you're going to provide a smart-looking tabletop as a workstation for your kid, loft beds are the ones to fulfill that.
Slides:
Slides can be a surefire way for your kid to start their day – instead of climbing down, they will just slide down from the bed. The slides are detachable, and you can turn the bedroom into a playroom when the loft comes with a slide.
Build Materials
Wood:
Solid wood is the best material to be used for making lofts. They are sturdy, durable, and match with almost every type of home décor. Woods won't creak or wobble, and most of the time, they can carry more loads than loft beds made with other materials within the same price range. One thing you should remember, though, the quality mentioned above of the wooden loft beds mostly is dependent on the efficiency in assembling or the quality of the source materials. So, it wouldn't be wise to decide only based on the loft bed being made with wood.
Metal:
Compound metals are mostly used in making most of the loft beds. There are many reasons – easy to source, cheaper, ease in assembling, ease in molding to give any shape, lightweight, can be made to look sleek, etc. But they can wobble and shaky if not assembled right. So, if you opt for metal, safety precautions must be taken very seriously.
Plastic:
Plastic products are colorful, inexpensive, and way lighter than wood or metal loft beds. But these products are sturdy and reliable as well. They can pose more problems while assembling than the other varieties can. There won't be any fragments, and the edges won't be sharp like metal loft beds.
Mixed:
Some manufacturers use a mix of materials – the combination would be either metal and plastic or wood and plastic. Using different materials at the same time can be efficient in terms of pricing. Moreover, using other materials simultaneously can make assembling easier since there won't be any need for using hardware.
Safety Tips For Loft Beds
Guardrails are Must:
To prevent accidental falls, every type of loft bed comes with guardrails. Rolling off the edge for an adult may seem impossible, but it happens. And for kids, it can be downright dangerous if the loft doesn't have guardrails. These days, the industry standard is one opening for getting into and out of bed with about 15 inches across. The length of the guardrails should be at least 5 inches on top of the mattress. One significant feature you must make sure that your chosen loft bed has is that the guardrails should be more than 3.5 apart simply because more distance than 3.5 inches will increase the possibility of strangulation. Recent models that are available right now have all those safety measures in place. If you choose to go for a used one from earlier versions, make sure that the specifications mentioned above are in place.
Mattress Foundation:
The base where you are going to put the mattress should be rigid, sturdy, and firm. When you apply pressure on it or push it downwards, it shouldn't bend or feel wobbly. The mattress should fit in such a way that there won't be any space left anywhere around. This will prevent rolling off or getting stuck in between the structure and the mattress.
Age Limit:
Children under six years old should not be allowed to sleep on the top. The statistics regarding injuries from the loft bed show that children under five are the most susceptible bunch who hurt themselves most. So if you have kids under six, wait until their sixth birthday is over. And then choose one for them.
Playing on the Bed Is A Big 'No':
Playing 'horse' on the bunk is the fun that most of us can relate to. But at the same time, this can award you some forgettable memories as well in the form of a broken wrist or some other injuries. And not surprisingly, boys are much more prone to get hurt since they are more likely to enjoy the fun with elements of danger in them. But as a general 'must-be-followed rule,' you should establish that no one can play on the top. Also, make sure that no one is playing under the bed to avoid injuries caused by hitting the frame overhead or sideways.
A Night Light is A Nice Addition:
If you put a light somewhere in the ladder, it makes getting down from the bed much more manageable. Descending down in total darkness may not be such a good idea after all.
Safety Rules Are To Be Followed:
Since day one, when the bed gets inside the house, your child (or children) must be aware of the precautionary guidelines. Also, they need to follow them to the letter. It is your responsibility to make them understand the importance of the rules and the aftermath of not maintaining them.
Loft Bed is Not A Hanger:
You cannot hang things in the loft bed even if you don't have enough space left in the closet. Scarves, jump ropes, belts, etc. all can pose a threat to strangulation. So resist the urge and stop treating the loft bed as hangers.
The Top Bunk Gets Only One Person:
The top bunk is only for sleeping. The children can use the loft bed to hang out together to read, coloring, or take a nap, only if they use the bottom level. You should make it abundantly clear from the beginning that only one person can have access to the top loft at any given moment.
Guidelines for Assembling
Falling out of bed is an apparent and obvious risk, but so is letting yourself stuck between the wall and the bunk. So, it is of utmost importance that your chosen product has guardrails on both sides. You may mistakenly think that flushing one side of the loft bed against the wall may prevent imminent dangers, but you would be very wrong. If you have doubts over that, please go visit the website of the US Consumer Product Safety Commission to get a comprehensive list of potential injuries that people suffer from ignoring the necessary safety precautions.
Safe Placement of The Loft Bed:
The most important thing to remember would be ensuring your child's safe and comfortable getting in and out of bed. You need to figure that out considering the overall layout of the room. Let me give you a few heads up – make sure the bed isn't directly next to ceiling fans or underneath light fixtures. It shouldn't be now against a window. There should be more than enough space for the occupant's head not to hit the ceiling.
Frequently Asked Questions
What is the possibility of the bunk beds collapsing?
Technically, it is improbable, but it can and will probably collapse if the assembling is done wrong. Every piece should be attached and fastened correctly. And finally, when the product is set up to be used, check it by applying pressure from all the sides to make sure it doesn't crackle or is rickety or shakes with the slightest of the push.
How safe is it for the adults?
It is perfectly safe for the adult population. This furniture is omnipresent in dorm rooms, military bases, privately organized hostels. Just make sure you know the load capacity before you get one for you.
Is it necessary to "cushion" the ladder?
If you add pads or cushions, it will provide extra safety for the kids. At least it will enhance gripping and stop slipping.
There you go! Hopefully you have found what you were looking for before starting to read this, rather long piece.
Now, go get your chosen one and let the kids or the adults for whoever you are buying this item, sleep on.
More Resources: