Are you planning to take your mattress on your next camping trip? If yes, are you confused about whether your existing bed will fit in your camper van or RV? 
The answer is yes! You can put a regular mattress in a camper van. And despite some people saying it won't be comfortable, but that's not true. All you will need to do is measure the space where you plan to fit the mattress, buy one that fits, and secure it properly. 
Whether you have a camper trailer or an RV, finding the right-size mattress is crucial as it can make all the difference in ensuring that everyone in the family gets a good night's sleep.
In this blog post, we'll explore the best way to ensure that your regular mattress fits snugly in your camper van. 
What Are The Key Factors When Choosing  Mattress For An RV Or Camper Van?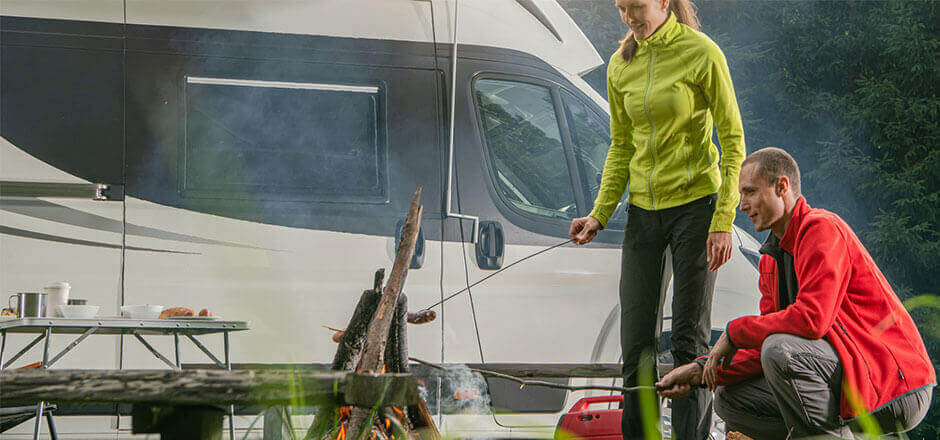 When selecting an RV mattress, it is advisable to prioritize durability, affordability, and weight. Additionally, considering the limited space available in RVs, it is important to choose a mattress that can serve multiple purposes. For example, when not used for sleeping, the mattress can be used as a play area for children or a sofa when needed. 
When considering weight, choosing something that isn't excessively heavy is crucial, as you definitely don't want to burden your RV or camper van. 
Different Types of RV Mattress
After determining the mattress size that fits your camper van or RV, you need to figure out which type of mattress best fits your requirements. Most manufacturers fit their camper vans and RVs with foam mattresses approximately 5 to 6 inches thick. 
But, for most customers, this isn't exactly comfortable. Therefore, you need to purchase an as comfortable mattress and provide adequate support similar to the ones you've at your home. 
There are various mattresses to choose from. 
Air Mattress
Air mattresses are low-cost and lightweight and can be inflated and deflated in minutes. They're easy to store when not needed. These mattresses are primarily used by those who need a short-term solution for accommodating guests.
Air mattresses are less comfortable than other mattresses, such as memory foam mattresses, but if you want to adjust the firmness of your bed, an air mattress can be a suitable option. You can purchase air mattresses from $100 to $1,000.
However, air mattresses are prone to damage and punctures, so you need to be careful. 
Memory Foam Mattress
A memory foam mattress is a good choice if you're dealing with sore muscles. This type of mattress conforms to your body, relieving pressure. 
Speaking of relieving pressure, you can opt for a memory foam mattress if you like camping, but your back isn't in the best shape. We have compiled some of the best camping mattresses for bad back, so if you're looking for one, check it out. 
Another added benefit of memory foam mattresses is their cooling effect. If you're in a hot and humid area and your camper van or RV doesn't have air conditioning, this could be beneficial.  Memory foam mattresses have great thermal properties that help keep your body cool during hot summer nights.  
A gel memory foam mattress could be even more helpful since it has cooling gel or gel beads that help regulate temperature. A memory foam mattress typically ranges from $400 to $1,000.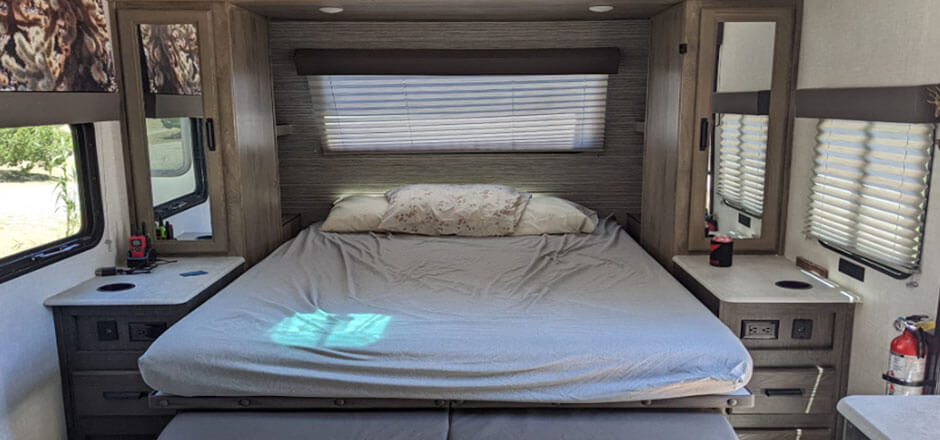 Latex Mattress
Latex mattresses are ideal for those who want to enjoy the comfort of memory foam and want something that provides extra support and a relatively good lifespan. Unlike memory foam, they are made from natural materials and don't have any chemicals. Although they may not feel as plush, they're eco-friendly, hypoallergenic, and resistant to dust mites, mold, and mildew. 
If you want to purchase a latex mattress, you can expect to spend between $900 and $1,500.
Innerspring Mattress
These mattresses are less comfortable than those we mentioned here, but they feature a pillow top layer that provides cushioning between you and the springs. In addition to being less comfy, this mattress type is susceptible to rust due to the steel coils inside. Therefore, we won't recommend you buy these if you live in a hot and humid climate.  
As this mattress type is less preferred by customers, they are usually less expensive than memory foam, latex, or air mattresses. A typical innerspring mattress costs around $250 to $600.
Hybrid Mattress
If you want a mattress that combines the contour of memory foam with the bounciness of an innerspring mattress, consider a hybrid mattress. However, they can be pricey, with most options costing over $1,000. 
That being said, hybrid mattresses are breathable and durable, which makes them a good choice for people living in hot and humid environments.  Innerspring mattresses are also available in varying layers of firmness, ensuring a comfortable and restful night's sleep for anyone. 
Finding the right mattress for your RV or camper van is essential to ensure a comfortable night's sleep. With so many options available, you'll need to consider which type of mattress works best for your needs and budget.
8 Mattress Sizes For Camper Vans and RVs
8 RV Mattress Sizes
If you and your family want to sleep comfortably in your RV or camper van, you need to know the right mattress size. A mattress size chart can help you find the right size for your RV. It will show you whether you need to order a custom mattress.  
Custom mattresses allow you to choose the exact dimensions and firmness that fit your needs as a single person or couple. Since there is no one-size-fits-all option, you need to know your choices when buying a mattress for your RV.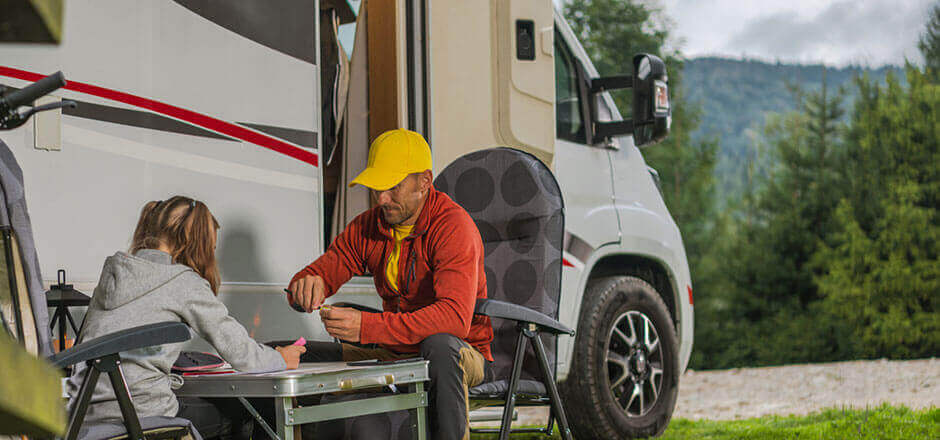 Dimensions of RV Mattresses:-
Let's discuss these various camper van or RV mattresses in more detail. 
Most small RVs are equipped with twin-size mattresses, which are perfect for compact spaces. These mattresses can fit anywhere you need them. These mattresses are available in two sizes: 28 by 80 inches and 28 by 75 inches. While the difference may be insignificant, it is still important to consider the available space in your RV before buying. 
Pros
Twin-size mattresses designed explicitly for RVs are a superb option for small spaces.

These mattresses offer the perfect balance between comfort and functionality.
Cons
This compact mattress is designed for small spaces, so if you're looking for something large and more spacious, you must look elsewhere.
A truck-sized mattress typically measures around 35 by 79 inches and 42 by 80 inches. While it shares the same length as a twin-sized mattress and is specifically designed to fit snugly into the cab of a semi-truck. Consequently, it is an excellent size choice for numerous campers and RV enthusiasts.
Pros
These mattresses are also suitable for adults due to their spacious design.

Ideal for kids.
Cons
For some, this mattress size may be too small and lacking comfort.
Certain recreational vehicles (RVs) have bunk beds, which makes them ideal for accommodating families or larger groups needing extra space. Bunk bed mattresses come in various sizes, ranging from 28 by 75 inches to 35 by 79 inches. Before purchasing, measure the bunk bed showcased in your RV to determine the most suitable option.
Pros
Bunk beds are great if you want to save space and accommodate more people simultaneously.

Similar to a standard twin-size mattress.

Great for one sleeper.
Cons
Many RVs and camper vans don't have the space to fit bunk beds.

You will need multiple mattresses if you've bunk beds, which will cost you extra.

The exact dimensions vary depending on the camper or RV.
A three-quarter-size mattress is ideal for those seeking a bed larger than a twin but smaller than a full-size mattress. Measuring approximately 28 by 75 inches, this type of RV mattress fits perfectly in compact RVs with limited space. 
Pros
Great for buyers with limited space but who need a mattress that can fit two children or one adult.
Cons
Not ideal for tall people.
Measuring approximately 53 by 75 inches, this mattress size is slightly smaller than a standard full-sized mattress. It's ideal for adults. It's comfortable and compact. So, if you're looking for a comfortable mattress that doesn't require much space, this is a great option. 
Pros
Great for adult sleepers.

Ideal for RVs or campers with limited space.
Cons
Not ideal for very small RVs or camper vans.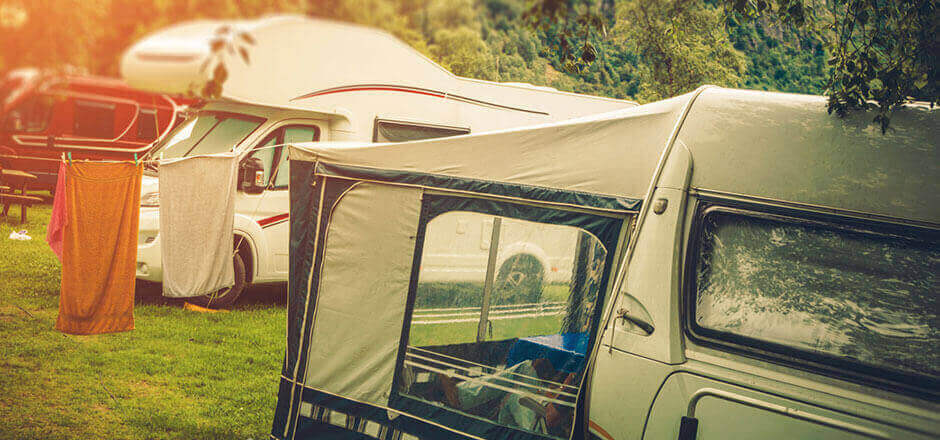 If you need a mattress that can comfortably accommodate two adults, this could be the perfect option. A short queen-size mattress usually measures around 60 by 75 inches and is commonly found in medium-sized RVs. It provides an excellent solution for individuals looking for a regular bed that can comfortably accommodate two people while maximizing space.
Pros
This mattress occupies less space but still has ample space for two adults.
Cons
Not a good choice for small RVs and campers.
If your RV has enough space to accommodate a bed measuring approximately 60 by 80 inches, you can comfortably fit a queen-sized mattress inside. However, typically, queen-sized mattresses aren't used in RVs. Nonetheless, these mattresses are exceptionally comfortable and can easily accommodate two adults and a couple of kids.
Pros
Comfortable and spacious.

Can accommodate two adults and a couple of kids.
Cons
It may be a little big for your RV or camper van.

The thickness of the mattress can be an issue when fitting it into the RV.
If you have ample space in your camper, a king-size mattress is the ultimate choice. These mattresses are usually comfortable and have luxurious touch and feel. At approximately 72 by 75 inches in size, this mattress can easily accommodate two adults and a child. This mattress option is perfect for those who want a restful night's sleep and has ample space in their RVs or camper vans.
Pros
Large and comfortable.

It can easily fit two adults and one child.
Cons
Due to its large size, it can't be fitted in certain RVs and campers.
Tips For Preventing A Mattress From Shifting In An RV
After figuring out the perfect size, there are several ways to ensure that your new mattress fits snugly into your camper van. 
Here are some tips:
Make sure you use long screws or bolts to firmly secure the frame and/or box spring of the mattress to the floor.

Place two thin pieces of plywood between the mattress and its frame for added stability.

If you have a bunk bed, use straps to secure the mattress against sliding off while in transit.

Use an RV mattress pad since it will add cushion to the surface of your mattress and also decrease any slipping or sliding that might occur during travel.

Place a non-slip rug or mat underneath the mattress for extra security.
Finally, always check your mattress before setting off to ensure it is in the right position and secure. 
Frequently Asked Questions (FAQ)
1. Can I put a regular mattress in my camper?
Yes, you can put a regular mattress in your camper. However, it's essential to consider the size, weight, and shape of the mattress. RVs and camper vans typically have unique dimensions that standard mattresses may not fit. Hence, it's best to consider a mattress designed explicitly for RVs or campers.
2. Is a camper mattress the same as a regular mattress?
No, camper mattresses are not the same as regular mattresses. They are designed explicitly for RVs and campers because they are compact and lightweight. These mattresses also have many features that make them suitable for camping or leisure activities.
3. Can you put a regular queen mattress in a camper?
Regular queen mattresses are usually too large to fit a camper. However, there are certain RVs with enough space to accommodate this size.
4.

What size mattress fits in a camper van?
The size of a mattress that fits in a camper van varies depending on the model and size of the van. Typically, most campers and RVs have mattresses measuring between 28 by 75 inches to 60 by 75 inches. Therefore, it's essential to consider the available space in your RV before selecting a mattress.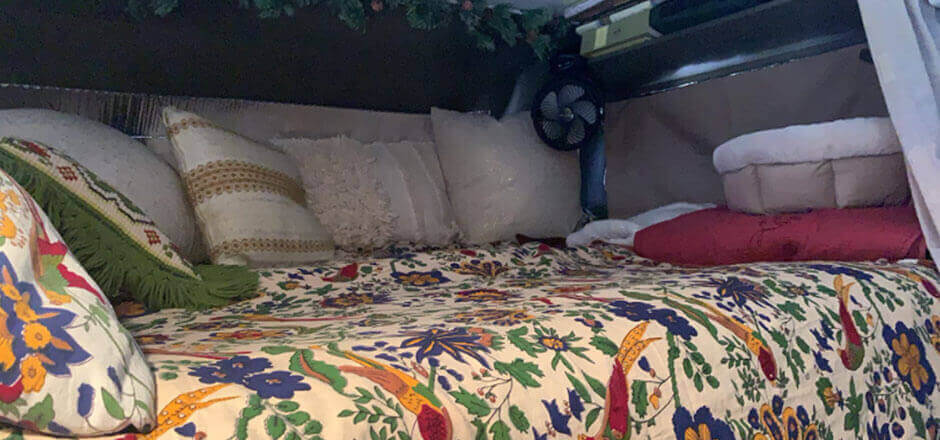 5. How thick should a van mattress be?
The ideal mattress thickness for a van or RV usually depends on the user's preference. Most mattresses designed for campers and RVs range from 6 to 9 inches thick, while thicker options (10 inches) are available for those seeking added comfort.
6. What type of mattress is best for a van?
The best type of mattress for a van or RV usually depends on the user's needs. Generally, memory foam mattresses are considered the most suitable choice as they provide superior support and comfort regardless of movement or sleeping position. Additionally, such mattresses are often lightweight and designed to fit into compact spaces like camper vans or RVs. Furthermore, airbeds and hybrid mattresses are also great options.
7. Can you use regular blankets and sheets on RV mattresses?
If regular blankets and sheets fit properly, they can be used on RV mattresses. However, buying sheets specifically made for RV mattresses is advisable as they are usually thinner and more snugly fitted than traditional sheets.
8. What's the difference between RV and regular mattresses?
RV mattresses and regular mattresses differ in terms of size, shape, weight, and comfort. Generally, RV mattresses are thinner than regular mattresses as they need to fit into compact spaces such as camper vans or RVs. Additionally, most RV mattresses have special features like extra support on the edges that help keep them secure even when the RV is moving. Furthermore, RV mattresses are often made of lightweight materials that can be easily moved and stored.
Conclusion
There are many factors to consider when choosing the best mattress for your RV or camper van. Ultimately, it's essential to make sure you select a mattress that fits perfectly in your space and is comfortable enough for your needs. Additionally, don't forget to factor in the size of the bed as well as the weight and thickness of the mattress. 
Make sure to check for any warranties or return policies that come with the mattress you choose. This ensures you can have peace of mind knowing your purchase is protected if something goes wrong. With all these tips in mind, finding the perfect mattress for your RV or camper van should be easy. 
More Resources: